Change 10,000 Lives
Although I left the University of Birmingham many years ago I am proud to maintain a strong connection with the amazing work undertaken on campus. I believe that it is important that we ensure that young people are given the opportunity to grow, allowing them to utilise their knowledge to such a way to enhance our community.
The '10,000 Lives' appeal is the first university appeal in the UK to count the number of lives changed rather than the amount of money raised. Launched by the university at the end of 2017, the appeal is about extending opportunities to thousands of young people, to raise aspirations in 11–18 year olds, develop confident and employable students and support young alumni as they start life after university.
I was pleased to attend the campus launch of 'Give. Volunteer. Change 10,000 Lives' in the Elgar Concert Hall. I was then able to speak to Donovan, a present day medical student, who has the benefit of a scholarship and mentoring support.
I met my first mentee last week and I am excited to see him grow in confidence and take up the benefit of introductions that I will be able to offer him. I look forward to seeing the scheme develop and benefit many young people.
Judy Dyke (Law, LLB 1975)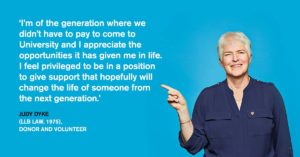 < back to all posts