Civil Partnership for All
It was recently announced by Theresa May that heterosexual couples will be able to enter into a civil partnership, a union previously restricted to same sex couples. The decision supports the widely publicised case of Rebecca Steinfeld and Charles Keidan, which came before the Supreme Court earlier this year where it was held that restricting civil partnerships to same sex couples was discriminatory and incompatible under European Law.
Civil partnerships were created to give same sex couples the same legal protections afforded to married couples. In 2013, same sex marriage was legalised, except in Northern Ireland. Giving heterosexual couples the option of forming civil partnerships, as opposed to getting married, will address the current disparity in couples' rights to formalise their relationships.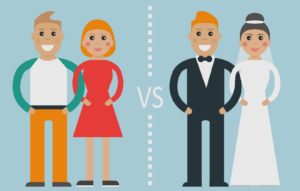 How could this change impact you?
Latest statistics show that there are currently 3.3 million unmarried couples who live together with shared financial responsibilities – more than half of these couples have children.  In her statement, Theresa May stated that the change in the law may help to protect those couples who want to commit and formalise their relationship by way of civil partnership but do not want to necessarily get married. She went on to say that there are still 'a number of legal issues to consider across pension and family law'.
A civil partnership is not a common law marriage. As per our previous blog post, common law marriage does not exist in England. Unmarried couples and couples not in civil partnership do not receive the same legal benefits or protection as those that are married couples or civil partners, regardless of how long they have been together. This is particularly important for couples who have not made wills.
< back to all posts