So far 2020 has been a year like no other …
So far 2020 has been a year like no other and we will look back on illness, loss and pain but also remember that this is a time for acts of courage, kindness and mutual support.
We have been and remain pro-active in our response to the challenge of Covid and colleagues at Tyndallwoods maintain business as usual. At all access points we have copies of the latest Government guidelines, the NHS Track and Trace QR code for Tyndallwoods, sanitising gel and wipes and single use face masks.
We see clients in our garden offices (marquees) where we can socially distance in the fresh air and hold discussions and sign documents in relation to property transactions, Wills and Lasting Powers of Attorney.
Our mediation service in relation to family and property matters continues using social distancing safety measures in our offices in the Coach House.
Much of our work including Commercial Property and Litigation has moved on-line.
We have received grateful feedback from clients as we continue to act for them in these challenging times.
Please do not hesitate to let us know if there are any additional steps that you feel we should be taking.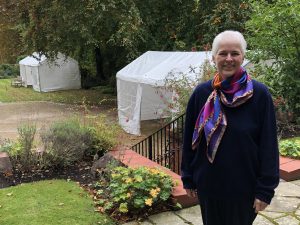 < back to all posts